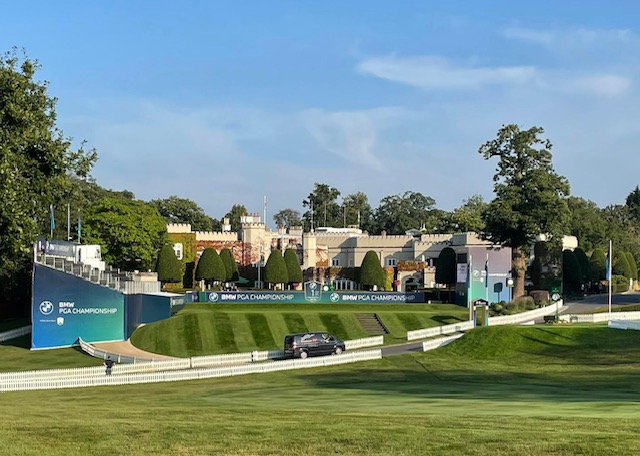 BMW PGA Championship Hospitality Packages Available
The BMW PGA Championship was founded in 1955 by the Professional Golfers' Association and was originally named The British PGA Championship. The Championship has been staged annually in several prestigious locations, but has remained at the iconic Wentworth club since 1972. Winners of this tournament include many golfing legends including Sir Nick Faldo and Seve Ballesteros whose clubs hang in Wentworth Clubhouse's hall of fame. Wentworth Club, one of the world's most impressive tournament venues with over 90 years' hosting experience, is a golfing haven based less than one hour from central London in Virginia Water.
You can experience the BMW PGA Championship in style, with a variety of elevated premium hospitality experiences
on offer. Enjoy premium dining options in the iconic Wentworth Clubhouse with The Ballroom package, or experience the best view in the house with the Green on 18 facility.
GREEN ON 18

This facility is located on the ground floor of the Championship Pavilion, which overlooks the 18th Green.
The facility includes a covered green side terrace, offering one of the best views of the golf as players seek to finish their round in style, on the West Course's infamously testing final hole.
Package details include...

• Official VIP Admission ticket with access to the course & 18th Green Pavilion
• Access to the Pavilion green side viewing balcony overlooking the 18th
• Private tables for groups of 10 or 12
• Breakfast
• 3-course luncheon menu served with selected wines
• Hospitality bar serving complimentary beer, wine, spirits and soft drinks
• Bar Open: 11.00 – 17.00hrs
• Afternoon tea
• Reserved VIP Parking (one per two people)
THE BALLROOM

Enter the iconic castellated clubhouse via a private entrance directly into the
grand Ballroom, serving premium dining options throughout the day. Guests
are encouraged to take advantage of the Wentworth shuttles to the halfway
hut with refreshments and a fantastic view of the 9th hole. The Ballroom
is a prestigious premium experience, which allows guests to both feast on
delicious food offerings and benefit from the best of world-class golf
Package details include...
• Official VIP admission ticket to the course and clubhouse Ballroom
• Private tables for groups of 10 to 12 (smaller groups to share tables)
• Dedicated hospitality staff to ensure your day runs smoothly
• Breakfast on arrival
• 3 course lunch
• Complimentary bar serving unlimited beer, wine and soft drinks
• Cash bar for champagne and spirits
• Your pass also enables you to use and access the shuttles to the Halfway House, where complimentary refreshments are served throughout the day
• Traditional English afternoon tea
• Dedicated grandstand seating available on 18th green on a first come, first served basis, reserved until 4pm
• Bar Open: 11.00 – 17.00hrs
• Reserved VIP parking (one per two people)
To book, please contact us on 01786 232529.