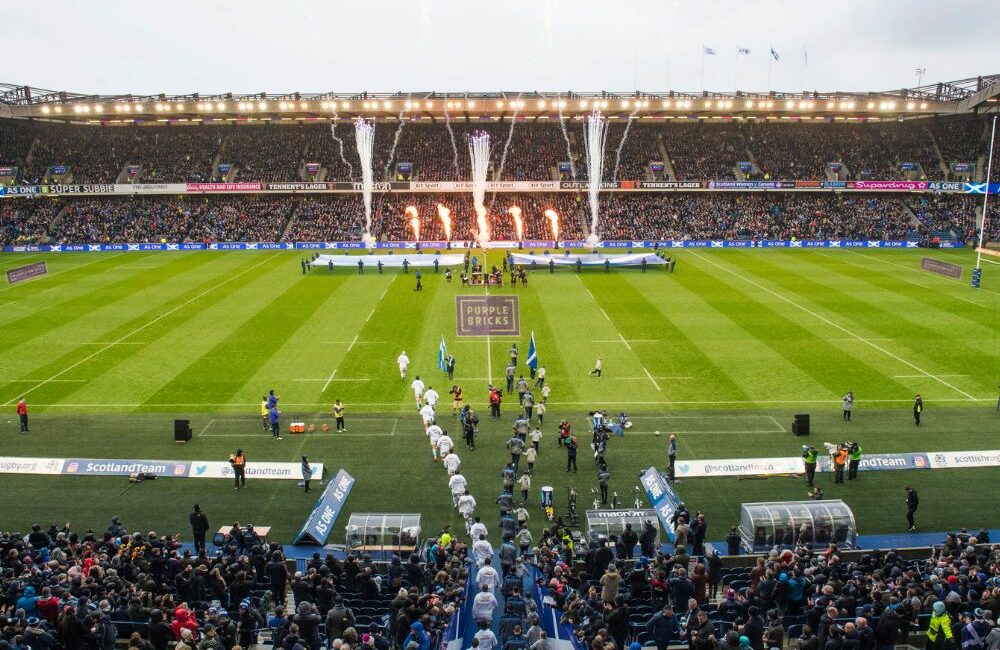 Enjoy an Exciting Day at Murrayfield With Trophy Events
Get ready for an electrifying experience at the one and only Murrayfield, the iconic Scottish rugby stadium located just outside Edinburgh. With a capacity of 67,144, it offers spectacular views of the playing field from every angle and some of the best Murrayfield hospitality services. The famous Scottish stadium plays host to some of the most thrilling matches of the season, including the Six Nations rugby tournament and the legendary autumn internationals. With such an impressive lineup, it's no wonder that Murrayfield has become a must-visit destination for any rugby enthusiast.
Here at Trophy Events, we pride ourselves on delivering the ultimate Murrayfield hospitality experience, offering a variety of premium corporate hospitality packages to cater to your specific needs. From VIP seats to exclusive access to hospitality areas and the finest food and drink options, we ensure you get everything you need to have an exciting and memorable day. Whether you're looking for a private box to entertain clients or a relaxed atmosphere to enjoy a game with your colleagues, we will provide you with the right offer that meets all your expectations.
History of BT Murrayfield Stadium
Murrayfield Stadium, now officially known as BT Murrayfield Stadium, holds a significant place in Scottish sports and has a fascinating history that spans nearly a century. The sports stadium is located in the Murrayfield area of Edinburgh and has a capacity of around 67,000 spectators, making it the largest stadium in Scotland.
Its construction began in 1925, prompted by the need for a larger and more modern venue to accommodate the growing popularity of rugby in Scotland. The Scottish Rugby Union (SRU) took charge of the project, with the renowned architect Archibald Leitch designing it. The inaugural match took place on March 21, 1925, between Scotland and England in the Five Nations Championship.
Over the years, Murrayfield Stadium has witnessed numerous historic rugby moments. It has been the home ground for the Scottish national rugby union team since its inception and has hosted many international matches, including Six Nations Championship games, Rugby World Cup matches, and British and Irish Lions tours.
In 2014, BT Group secured the naming rights for the stadium, leading to its current official name, BT Murrayfield Stadium. The sponsorship agreement aimed to support the ongoing development and enhancement of the stadium's facilities.
BT Murrayfield Stadium continues to be a treasured landmark in Scottish sports and entertainment. Its rich history, iconic status, and versatile capabilities make it an enduring symbol of Scotland's sporting heritage and a venue of choice for major events.
Best Events at Murrayfield Stadium
Murrayfield Stadium hosts many sporting and cultural events that cater to different interests including:
Six Nations Rugby Championship
The Six Nations Rugby Championship is one of the most anticipated events at Murrayfield Stadium. This annual tournament brings together the national rugby teams of Scotland, England, Wales, Ireland, France, and Italy, with passionate rugby fans creating a vibrant and unforgettable experience during matchdays.
Music Concerts
In addition to rugby, Murrayfield Stadium has diversified its range of events over time. From rock bands to pop sensations, the stadium has seen performances by iconic acts such as The Spice Girls, Coldplay, U2, Robbie Williams, The Rolling Stones, and Madonna. The stadium has also been the venue for music festivals like "T in the Park" and "Edinburgh's Hogmanay." The vast seating capacity and state-of-the-art facilities make it an ideal venue for large-scale concerts.
Edinburgh Festival
During the Edinburgh Festival, Murrayfield Stadium turns into an exciting hub of artistic and cultural activities. The festival showcases a wide array of performances, including theatre shows, comedy acts, and dance performances. Visitors can immerse themselves in the lively atmosphere and indulge in the creative spirit of the festival.
How to Get to Murrayfield
Murrayfield Stadium enjoys excellent connectivity, allowing visitors to reach it conveniently:
By Car
Murrayfield Stadium is easily accessible via the city's major road networks. There are designated parking areas available, but we recommend that you arrive early, as they can fill up quickly during popular events.
By Public Transport
The public transport system is very reliable in Edinburgh, making it an efficient and quick way to reach the stadium. You can take a bus or tram to Murrayfield Stadium from various locations within the city. The nearest tram stop is Murrayfield Stadium, while several bus routes pass through the area.
Edinburgh Trams offer regular rides that take you directly to the entrance of BT Murrayfield Stadium from various locations, including Edinburgh Airport, Ingliston Park & Ride, Edinburgh Gateway, Edinburgh Park Station, Haymarket Station, and St Andrew Square tram stop, which is conveniently close to Waverley Station. On a match day or any significant event, additional trams are deployed to adapt to the increased number of visitors.
On Foot or by Bicycle
For those staying in the city centre, walking or cycling to Murrayfield Stadium can be a pleasant and eco-friendly option. It takes approximately 30 minutes to walk from the heart of Edinburgh to the stadium. Additionally, there are dedicated cycle lanes and bike racks available near the venue for cyclists.
Facilities and Amenities at BT Murrayfield
Murrayfield Stadium offers a range of facilities and amenities to ensure visitors have the best possible experience. Some notable features include:
Seating: The stadium provides excellent views of the action on the pitch from every angle. The seating arrangement is designed to offer optimal sight lines and comfort.
Hospitality Suites: Murrayfield Stadium offers various hospitality suites that cater to different group sizes and preferences. These suites provide a premium experience with exclusive access, private dining options, and dedicated staff to make your day memorable.
Food and Beverage Options: You can buy food and drinks from the vendors that are strategically placed throughout the stadium, offering a wide selection of refreshments, snacks, and meals.
Merchandise: For sports enthusiasts looking to showcase their support for their favourite team or artist, BT Murrayfield features merchandise stands where you can purchase official team jerseys, scarves, and other memorabilia.